More Information on Automatic Bone Tack Kit
Stabilize Barrier Membranes with our affordable automatic titanium bone tack kit. The MCT Bone Tack Kit provides dental clinicians with the proper instrumentation for fixating or stabilizing guided tissue regeneration membranes to bone. The Membrane Tacks are small sharp titanium pins used during the healing process by providing an attachment mechanism for the membrane to local and adjacent bone at the surgical site.
Note: Membrane tacks are not intended for long-term implantation, but should be removed upon completion of the healing process.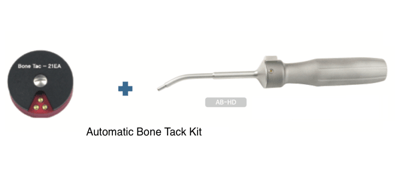 Bone Tack Size