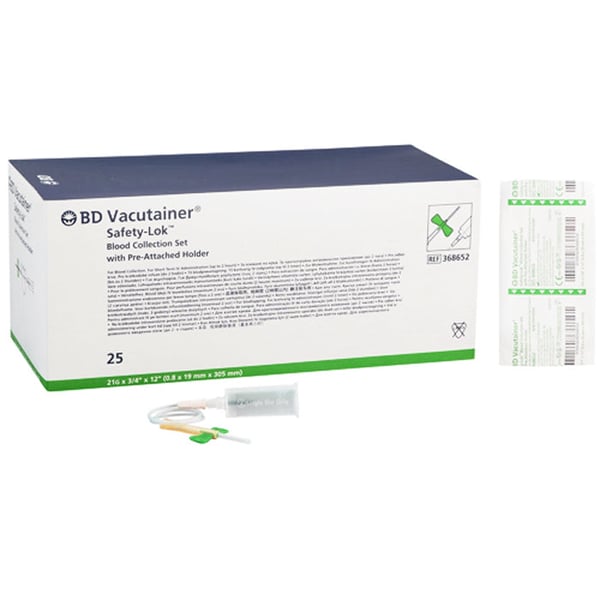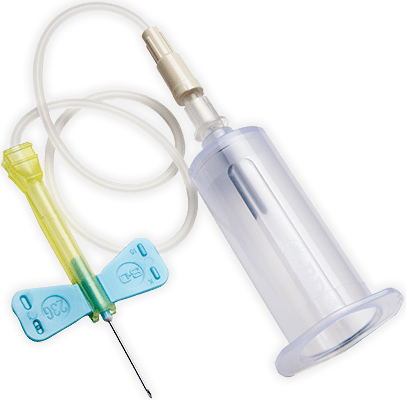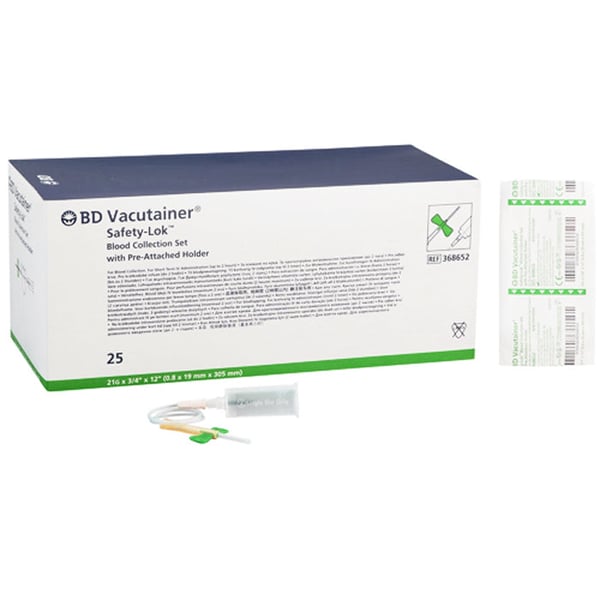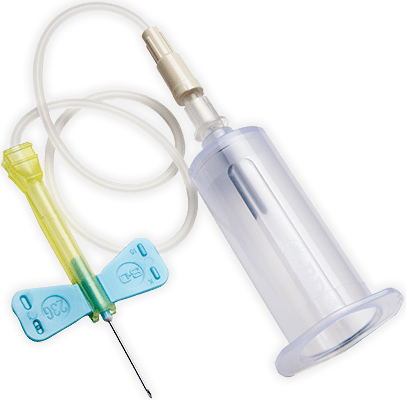 BD Vacutainer® Safety-Lok™ Blood Collection Set: 5 Easy Steps

Safely shielded with the BD Vacutainer® Safety-Lok™ Blood Collection Set: Benefits
Convenience because practicing safety should be simple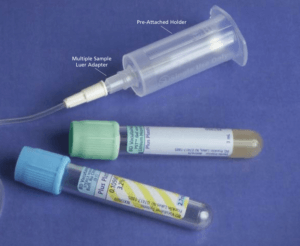 The BD Vacutainer® Safety-Lok™ Blood Collection Set with Pre-Attached Holder is ready to use right out of the package, with no assembly required The BD Vacutainer® Safety-Lok™ Shield enhances safety—yet requires no change in technique The slim, easy-to-handle design enhances control and flexibility Large wing size permits improved positioning during use Minimized coiling of tubing facilitates handling Blood flashback is seen clearly through translucent shield Convenient, integrated multiple sample luer adapter allows specimen collection from a "closed system" — further enhancing safety in use
Compliance because your focus should be on your patient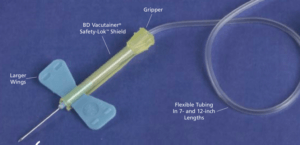 The BD Vacutainer® Safety-Lok™ Blood Collection Set with Pre-Attached Holder is designed to help your institution comply with OSHA single-use holder directive OSHA SHIB 10-15-03, by reducing the risk of holder reuse The BD Vacutainer® Safety-Lok™ Blood Collection Set with Pre-Attached Holder provides the assurance that the number of holders will always equal the number of Safety-Lok™ Blood Collection Sets The protective shield is designed to help your institution meet current Federal OSHA safety standards for engineering controls1
Commitment because your product should be reliable
The BD Vacutainer® Safety-Lok™ Blood Collection Set with Pre-Attached Holder protects the healthcare worker from nonpatient-end needle exposure The Safety-Lok™ Shield reduces needlestick risk throughout the hospital, for both hospital personnel and patients After use, the needle can be easily and completely covered by the protective shield and securely locked in place Improved safety from activation of the safety shield through final disposal in an approved sharps collector—may help reduce long-term costs of needlestick injuries
Ask a Question
No questions yet.
PRF Course Highlights
The short video below provides highlights from our recent PRF Course given by Dr. Brian Toorani. In the course, Dr. Toorani reviewed phlebotomy techniques and demonstrated centrifugation with both the classic fixed angle Choukroun protocols, and the newer horizontal centrifugation methods, using the DDSGadget
Write a Review
Recent reviews

No reviews yet. Add a Review and Save!