Complete kit to remove a failed dental implant. If you are just looking to buy the fixture removal screws, you can purcahse those separately at the fixture remover screw product page.
The implant removal kit contains the tools you need to remove a failed dental implant while minimizing trauma to the bone.
Kit includes:
3 Specialized Implant Remover Screws for all popular implant systems.
1 Remover Wrench for reverse torque.
1 Hand Adaptor.
7 Trephines (for difficult combination cases, if needed)
For replacement fixture removal screws available separately, once you have the kit.
Use the power of counter-clockwise force to safely explant failed implants.
Implant Fixture Removal Tool Kit: How it Works
Save surrounding bone and structures.
Unique fixture remover screws and wrench help you remove implants with no compromise to surrounding bone, and no damage to neighboring structures.
Designed to work with any threaded and self-tapping implant system.
3 different fixture screws to fit any threaded and self-tapping implant system. One reverse threaded driver remover for all implant sizes.
Based on proven "counter clockwise" principle
Fixtures with rough surfaces can be explanted by applying a sufficient amount of force in a counter clockwise direction, which allows preservation of the surrounding bone, and makes implant removal a more predictable procedure.
Simple Removal Technique

Choose the correct Fixture Remover screw (FRS).
Using the adapter, insert the FRS into the implant in a counter-clockwise direction.
Once the FRS is seated the remover wrench is set in a "counter-clockwise" direction, apply a counter-clockwise force until the implant becomes mobile.

Combination Technique: Use Reverse Torque Technique with included Trephines for rare, hard-to-manage cases.
Some patients experience pain under high reverse drive, and some implants will require these high torques for removal. In these extreme cases, as per Froum S (Compendium. 2011;32(7):2-24), to remove the implant without damaging the surrounding bone, trephines are used with the FR screws. However, do NOT use the trephines all the way to the end of the implant. Instead, use the trephines for 1/2 or 1/3 and then use the specialized fixture removers and reverse threaded driver to remove the rest of the implant.
Fixture Removal Kit Key Components
Counter-Torque Remover Wrench

Unique Fixture Remover Screws (3 Different Types)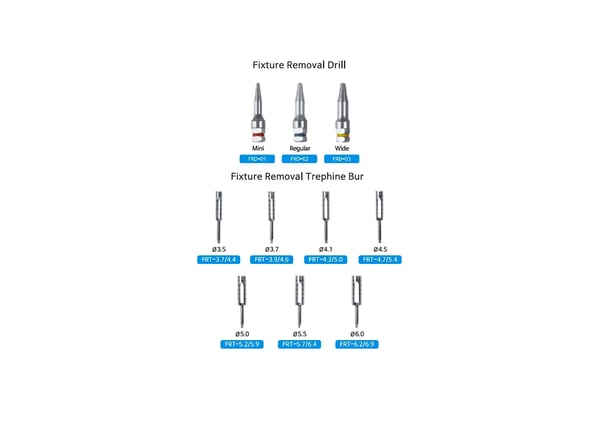 Write a Review
Recent reviews

Dr. Yaron Miller

5 out of 5 stars

"I used the MCT implant removal kit to torque out a failed implant. It worked like a dream! I hardly had to use any force and it came out. " Dr. Yaron Miller, Vista Dental Care, Vista, California

Removed 3 implants using this kit without complications. It is well designed housing everything one would need to remove just about any implant, with very little trauma! Simple to use. I would highly recommend this system!
Implant Removal Kit Demo
Watch the Implant Removal Kit in Action