Compatibility for Narrow Implant Broken Screw Removal Tool Kit
This kit contains guides for the following implant systems:
Straumann Bone Level RC & NC
Nobel Active 3.0 platform
Astra Narrow 3.0
Implant Direct legacy 3.0/3.2
Watch the Removal Kit Video
(Note: The video below is demonstrated with our regular as our Fractured Screw Removal Kit for regular implants.. The technique is the same with the Narrow Guide Kit. The only difference is the inclusion of special guides and drills for the compatible Narrow Implant System)
Fractured Screw Removal Kit Components
Reverse Threaded Screw Removal Tool
The kit utilizes specialized screw removal drills to prepare a channel in the long axis of the screw. Then a self-tapping, reverse threaded screw removal tool is inserted and turned slowly to provide an engaging instrument which grabs hold of the fractured screw and unscrews it.
Certain Guides: Protect Implant Body and Position Drill in Center
The system also includes a series of certain guides which protect the internal aspect of the implant body from the damaging effects of drills touching the threaded internal surface. The guide abutment system also allows the initial drill and the reverse tip to be positioned in the center of the broken screw.
Simple Procedure:

Pick certain guide for abutment.
Attach guide and hold it with holder
Use screw remover drill to take hold of the core of the broken screw in a reverse manner (1200 rpm)
Use tap to remove the broken screw in a reverse manner (30 rpm)
How to Use the Fractured Screw Removal Tools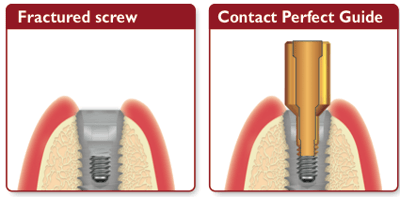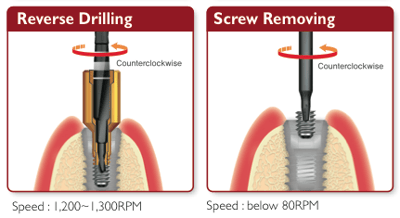 Ask a Question
No questions yet.
Fractured Screw removal kit Video Demo
This video provides a short demonstration of the fractured screw removal kit and shows the kits components.
Write a Review
Recent reviews

No reviews yet. Add a Review and Save!